GREEK KOMBOLOI RARE DIAMOND CHERRY AMBER & STERLING
Price:&nbsp
$569.99
---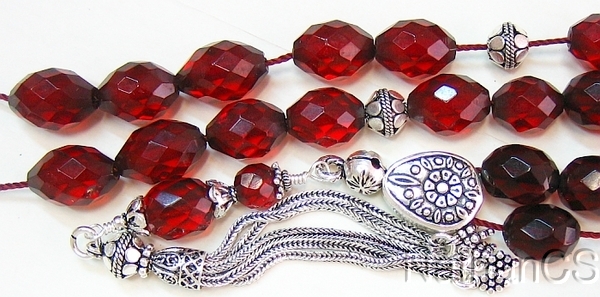 Description:
This is a magnificient item that you will greatly enjoy or that would
A SPECIAL LISTING FROM TESBIHCI'S PRIVATE COLLECTION : A GREEK KOMBOLOI / WORRY BEAD STRAND FACETED AND OF A VERY RARE CHERRY COLOR GENUINE AMBER.
You are presented here with a very rare and exceptional Greek KOMBOLOI , worry Bead Strand made of 21 beads + Separator bead +Front beads made of Genuine Diamond faceted Amber beads with very rare CHERRY natural color.

The Beads of this strand have been in my private collection for more than 25 years. The Komboloi has been designed with sterling silver beads and Tassel.

Pictures will describe better than anything else this beautiful item.

I estimate that the beads date back to the 1930'S and carved in Germany as the carving technique was best there.
Origin of the natural amber is either Polish or Estonian.
Beads have a nice and large size ranging from 14x10mm to 13x 9 mm on the average.

It is ax extremly nice and well balanced strand weighing a total of 34 grams .

It has an overall length of 35 cm .

It will perfectly suit any hand and is a real rare and graceful beauty, with a rarely seen bead size for that type of rare material

The tassel, shield and separators are Sterling Silver, entirely hand made.

EXTREMELY RARE NATURAL COLOR FOR AMBER of great beauty, glow and attraction.

This is a very rare and exceptional item that you will greatly enjoy or that would make a fantatstic addition to any collection as it is unique . A royal gift.
It is also a magnificient and rare collector's item as well as a beautiful strand to handle; it will give its owner renewed pleasure each time he will handle it and listen to the beautiful sound of its beads clicking one on the other . Typical of Amber is that the more the beads are handled the more beautiful and shiny they appear to be.The diamond cut adds to its beautiful shiny appearance reflecting light from all sides.

Close up pictures are there to testify of the beauty and attraction of this very exceptional item.
My selling principle is : " SATISFACTION OR REFUND " AND IT APPLIES 100 %.
I am ready to refund in totality any item sold by me if you are not fully satisfied with your purchase
NO QUESTIONS ASKED - NO CONDITIONS
BID WITH COMPLETE CONFIDENCE
Check my other auctions for different tesbih and komboloi - I have listed many for this special occasion
---
Return Policy:
Items must be returned within 14 days .
Refund will be given as Money back.
Refund policy details:
DETAILS ARE SPECIFIED IN THE LISTING. REFUND AT BUYER'S DISCRETION : REFUND, EXCHANGE OR MERCHANDISE CREDIT.
Shipping:

Destination: Switzerland

STANDARD
Standard
$15.00
$10.00

Destination: Worldwide

STANDARD
Standard
$15.00
$10.00

Insurance:
Included in the handling cost (Domestic)
Included in the handling cost (International)