PRAYER BEADS BUTTERSCOTCH RESIN OTTOMAN CUT 99 BEADS SPECIAL PRICE-COLLECTOR'S
Price:&nbsp
$65.00
---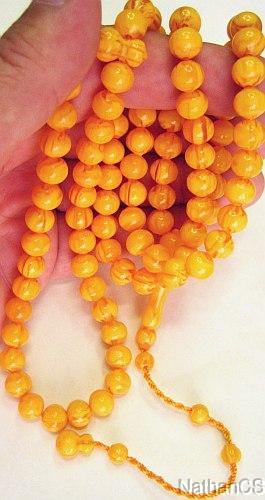 Description:
Special from Tesbihci : An extremely nice 99 bead Prayer beads strand

Description :
Material : Typical Ottoman Cut : SHALGAMY ( Turnip shape) Beads of Marbled DARK YELLOW AMBER Synthetic Resin - Phenolic type - of prime quality .
General : 99 Shalgamy beads of 8.5 mm dia. x 7.8 mm . One main bead 33 mm;
Ottoman Typical tassel
Total weight 37 grams - length : 54 cm. incl. tassel.
EXTREMELY ATTRACTIVE ITEM. DIFFICULT TO DIFFERENTIATE WITH DARK YELLOW AMBER . WILL FOCUS A LOT OF ATTENTION !!!!
Although this prayer bead strand is presented at a very low Opening price, it is guaranteed hand made, picked very carefully, strung with high quality cord suiting the bead color. These are rarely seen and presented. They are limited in number and are already a collector's item.
Pictures describe best
This is a magnificient item that you will greatly enjoy or that would make a fantatstic gift on any occasion.
---
Return Policy:
Items must be returned within 14 days .
Refund will be given as Money back.
Refund policy details:
DETAILS ARE SPECIFIED IN THE LISTING. REFUND AT BUYER'S DISCRETION : REFUND, EXCHANGE OR MERCHANDISE CREDIT.
Shipping:

Destination: Switzerland

STANDARD
Standard
$0.00
$0.00

Destination: Worldwide

STANDARD
Standard
$0.00
$0.00

Handling:
$0.00(Domestic)
$0.00(International)
Insurance:
Not Offered (Domestic)