Greek Komboloi VARISCITE and Sterling Silver - Worry Beads
Price:&nbsp
$125.00
---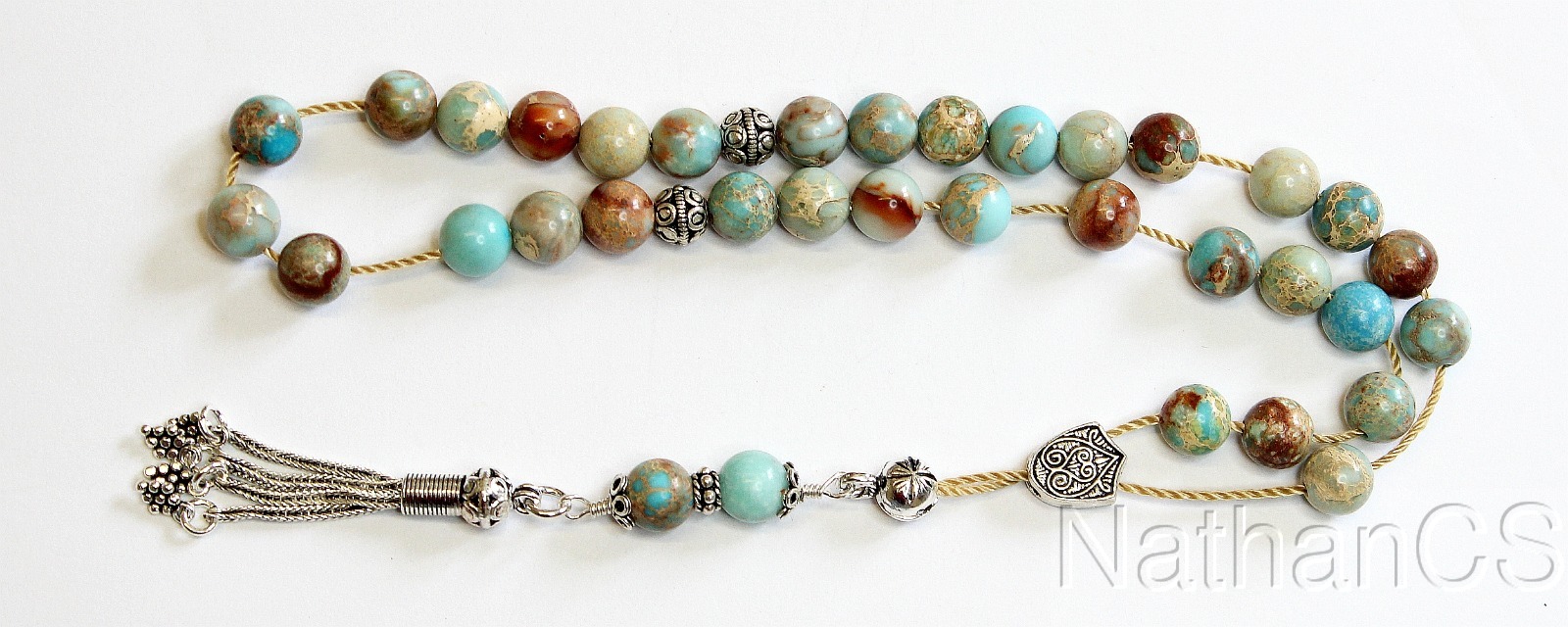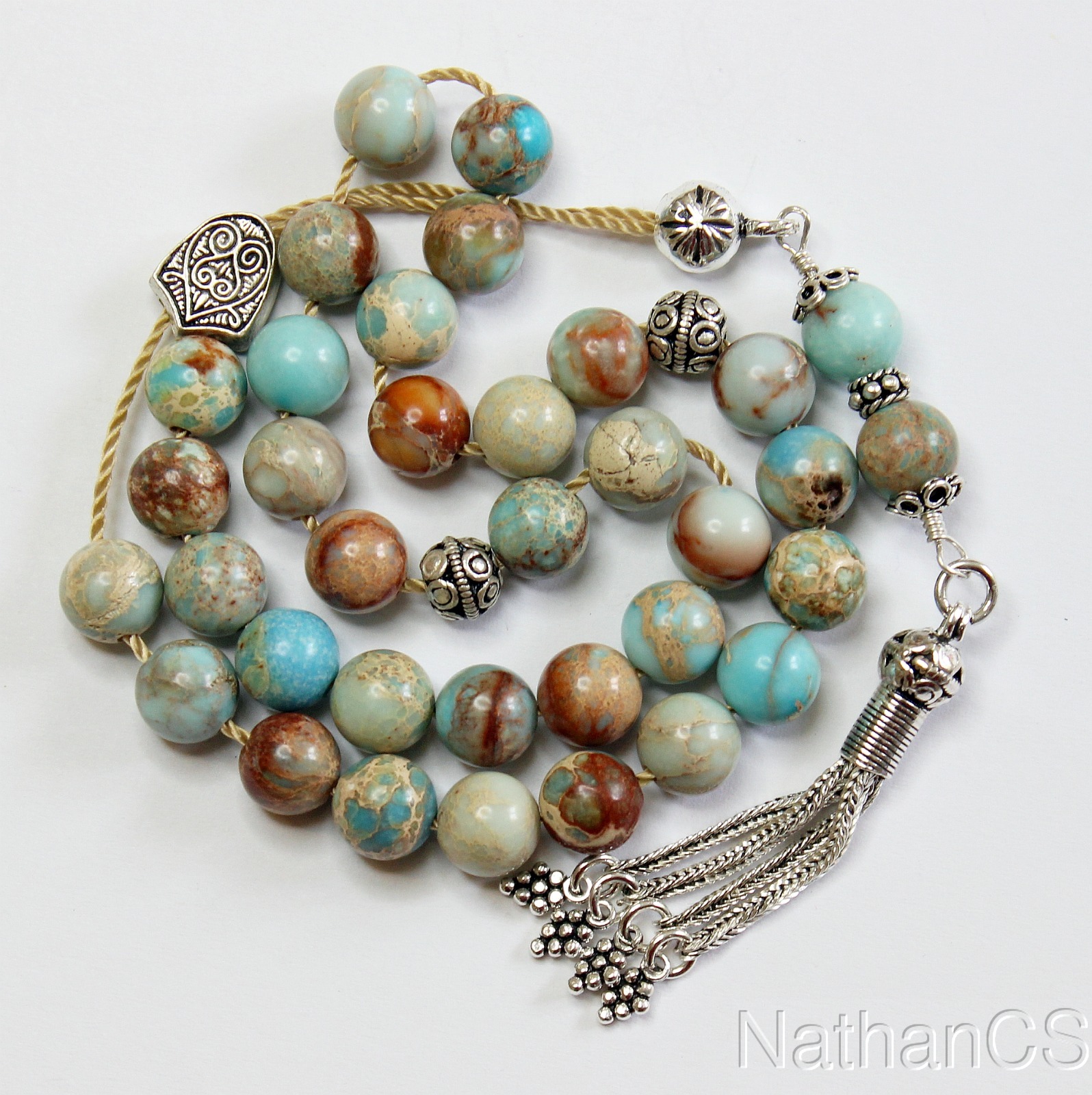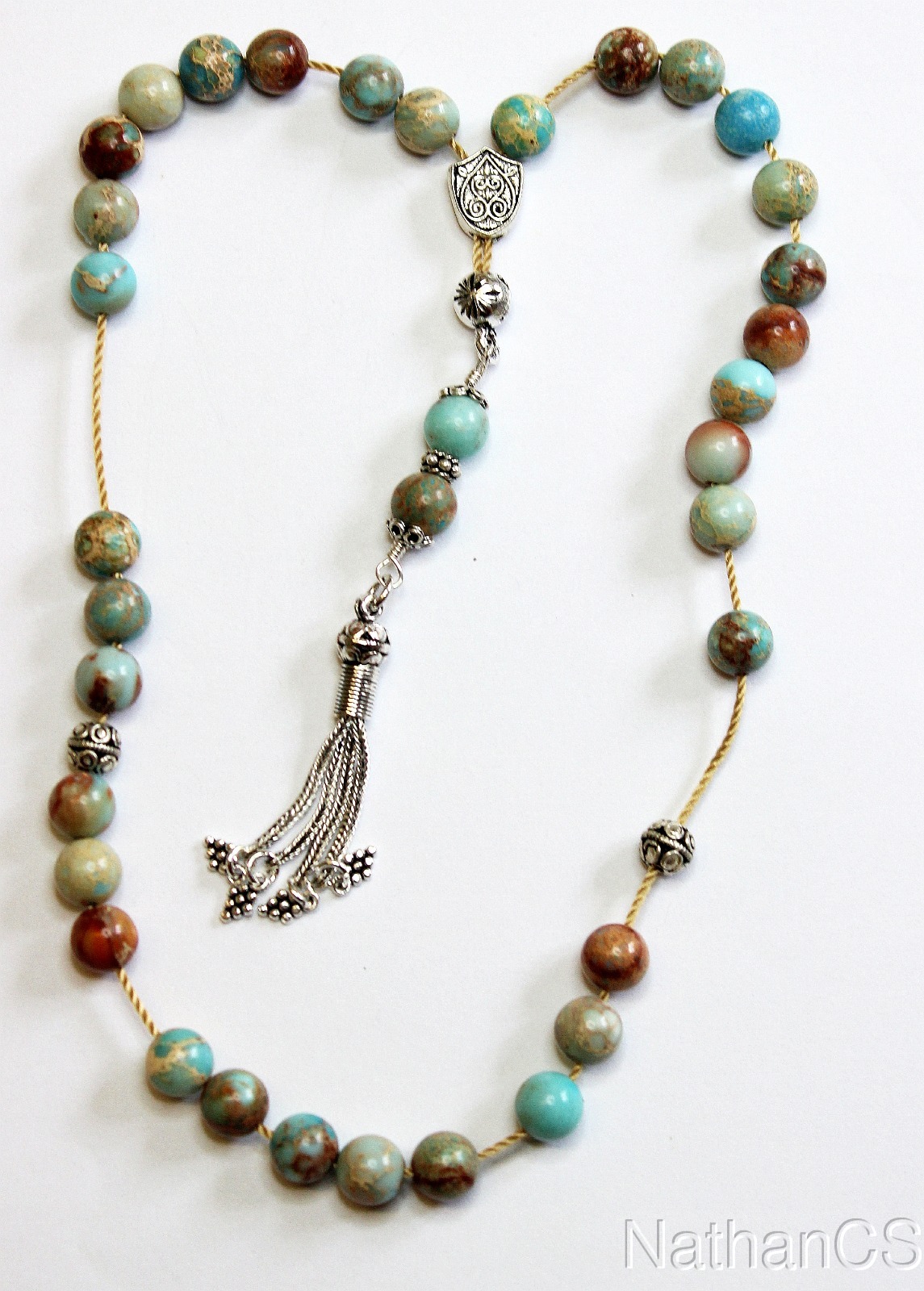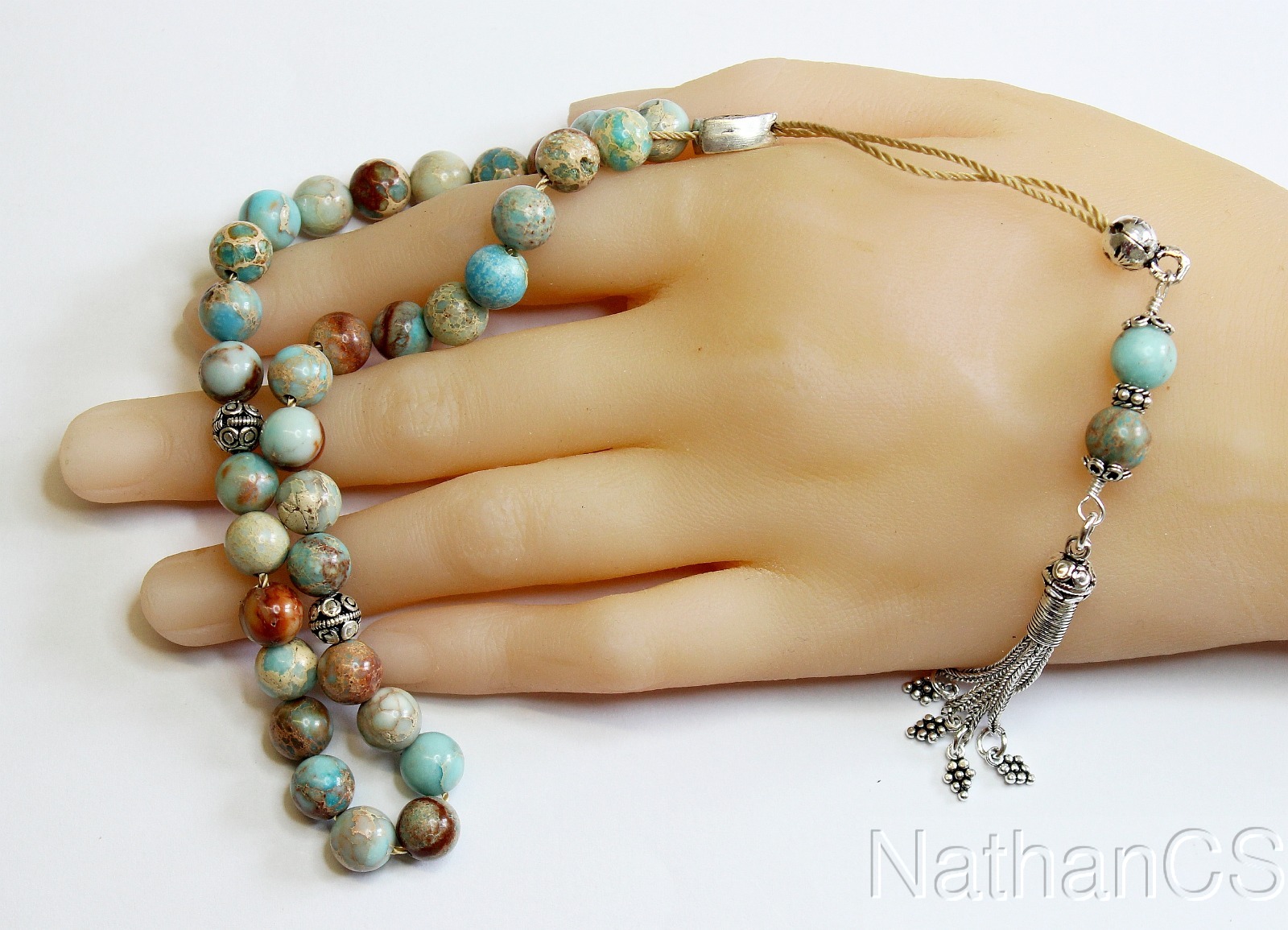 Description:
A very elegant Tesbih - Masbaha - presented by Tesbihci : VARISICTE - rare stone - in a very fine 33 bead strand.
It is an extremely pleasant item to use yourself or offer as a gift. It also has a very attractive and at a very reasonable price for such workmanship and type of material.



Description :



A- Material : Round variscite - rare material ( see explanation herebelow ) of exceptional good quality .




B- Tassel : Hand made Sterling Silver




C- All metal parts are Sterling SIlver




D- Bead size 8 mm dia. - 33 Beads Plus 2 for head bead.




E- Weight 35.5 grams , length total 32 cm



Variscite is a hydrated aluminium phosphate mineral . It is a relatively rare phosphate mineral. It is sometimes confused with turquoise; however, variscite is usually greener in color.
Variscite is a secondary mineral formed by direct deposition from phosphate bearing water that has reacted with aluminium rich rocks in a near-surface environment. It occurs as fine-grained masses in nodules, cavity fillings, and crusts. Variscite often contains veins of the calcium aluminium phosphate mineral crandallite
Quality of beads and carving as well as balance and aesthetics make of this strand a very elegant item.
This is a very pleasant, oiriginal, rarely seen and beautiful item that you will greatly enjoy or that would make a fantatstic gift. It is presented at a low starting price for such a quality and material. The knowledgeable amateur should not miss this partcular item .

SEE DETAILED PHOTOS BELOW

FOR A WIDE CHOICE, LINK TO MY EBAY STORE




My selling principle is :

"SATISFACTION OR REFUND " AND IT APPLIES 100 %.
I am ready to refund in totality any item sold by me if you are not fully satisfied with your purchase
NO QUESTIONS ASKED - NO CONDITIONS

BID WITH COMPLETE CONFIDENCE

---
Return Policy:
Items must be returned within 14 days .
Refund will be given as Money back.
Refund policy details:
DETAILS ARE SPECIFIED IN THE LISTING. REFUND AT BUYER'S DISCRETION : REFUND, EXCHANGE OR MERCHANDISE CREDIT.
Shipping:

Destination: Switzerland

STANDARD
Standard
$0.00
$0.00

Destination: Worldwide

STANDARD
Standard
$0.00
$0.00

Handling:
$0.00(Domestic)
$0.00(International)
Insurance:
Not Offered (Domestic)