1862 Baltic Amber and Sterling Catholic Rosary with Sacraments Medal - V. Rare


Condition: Used - Very Good
Price:&nbsp

$375.00
---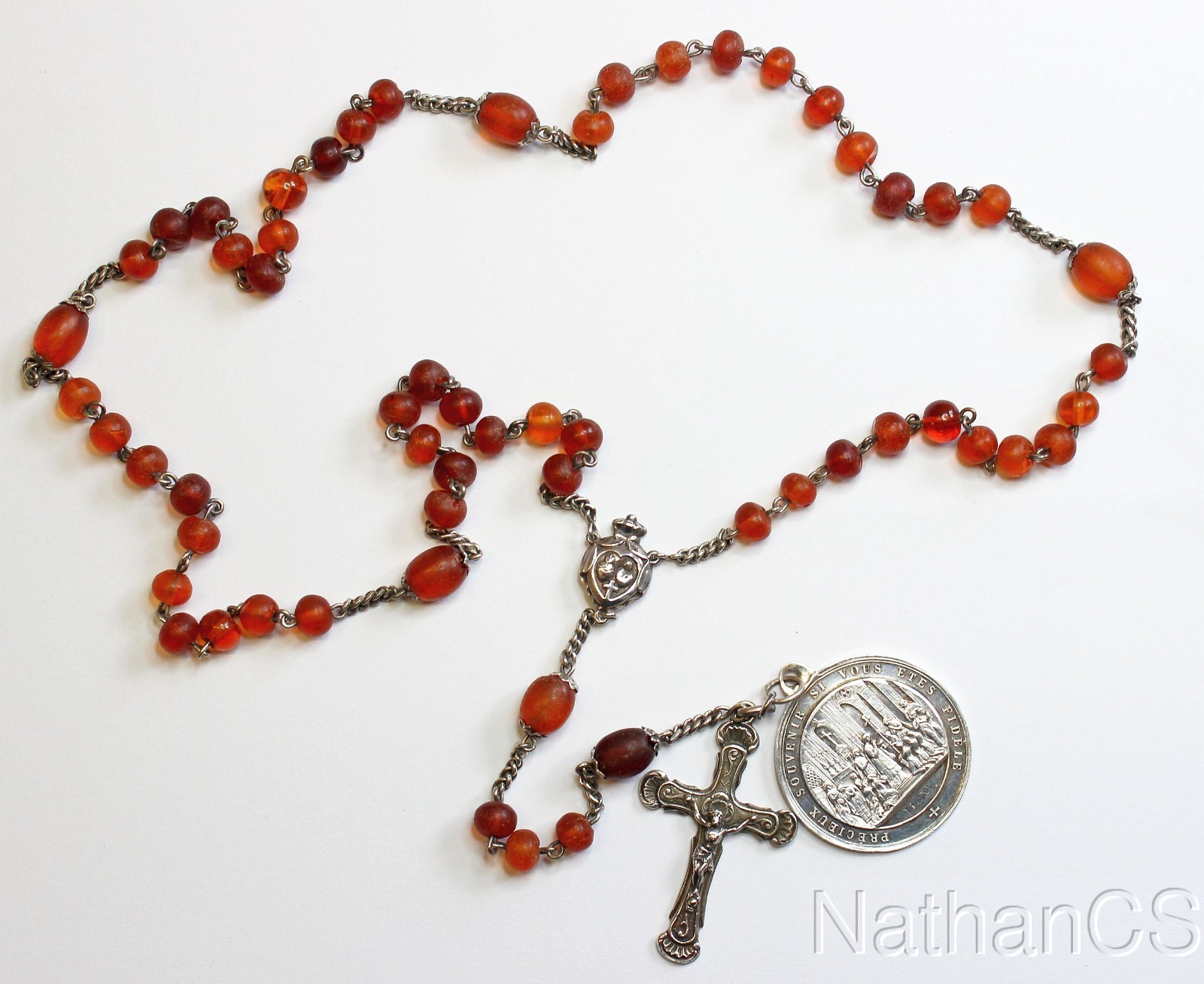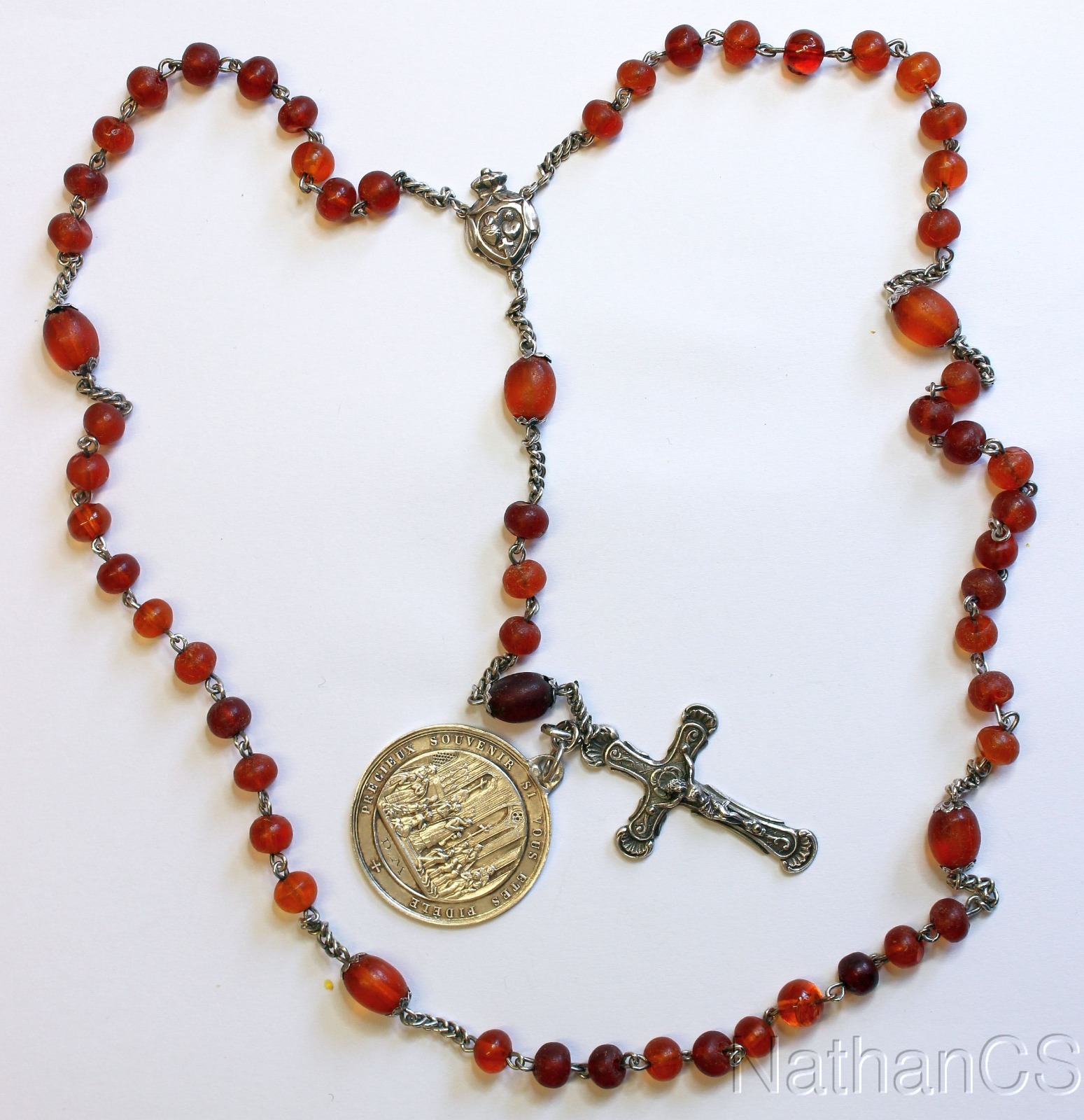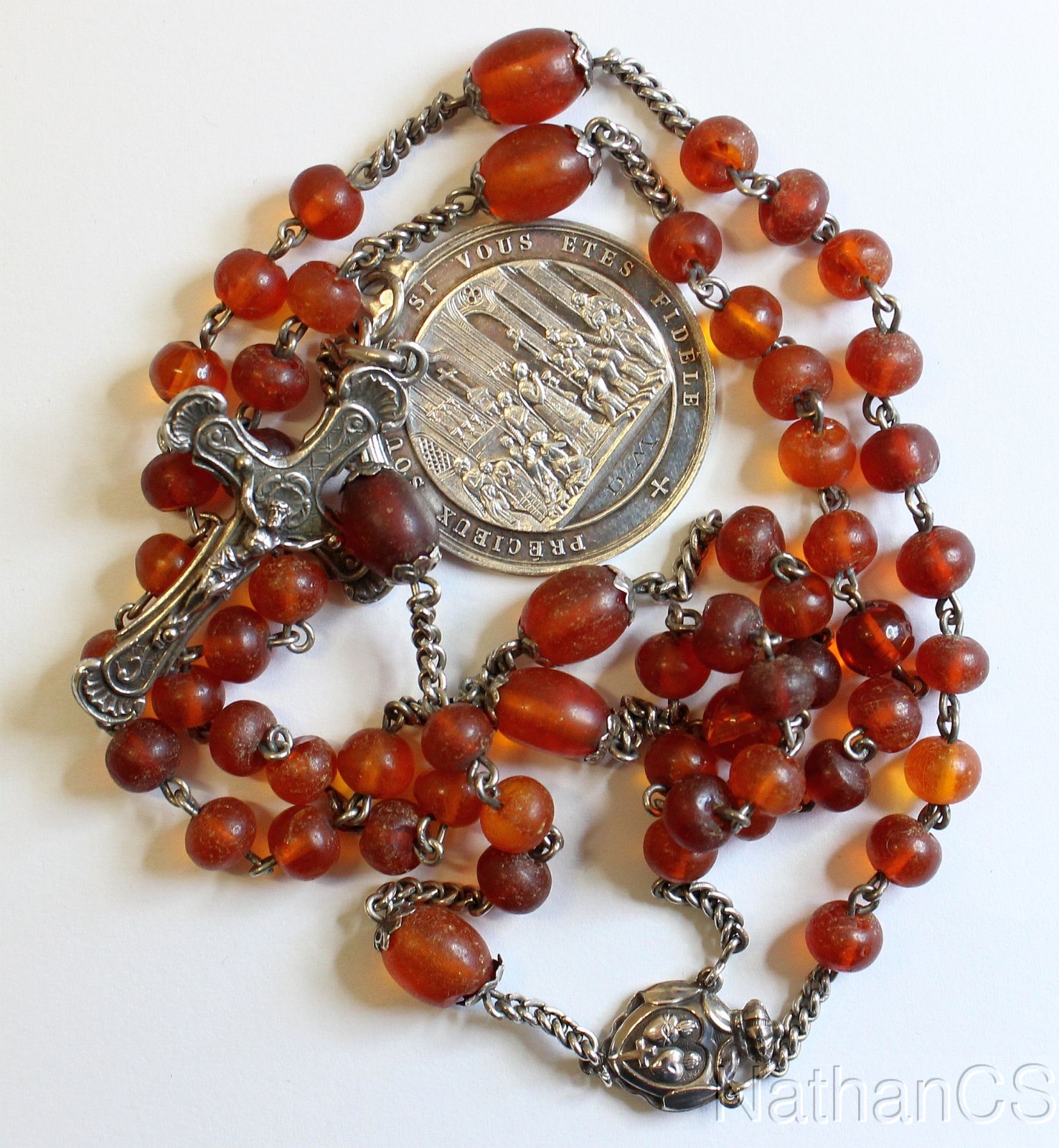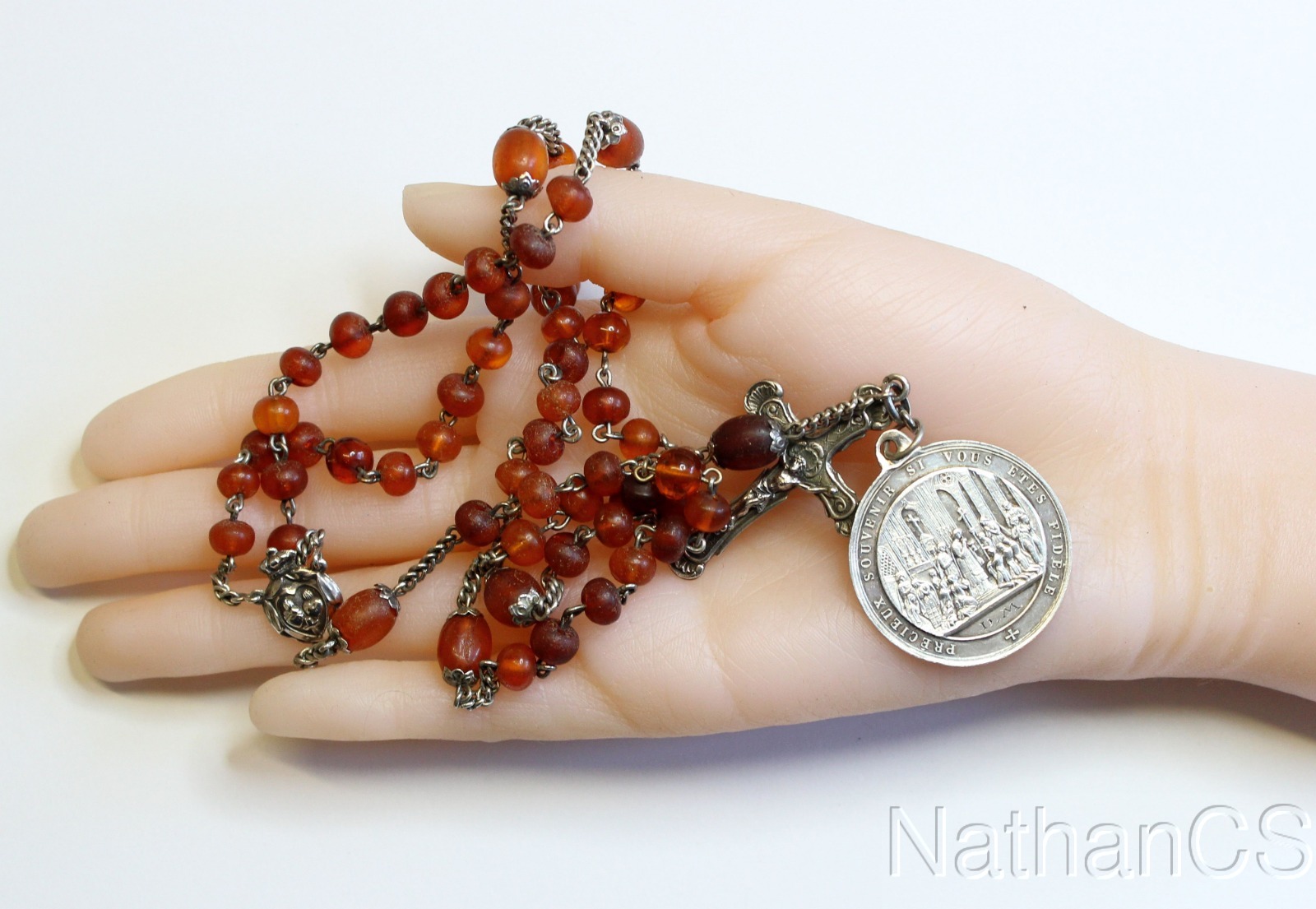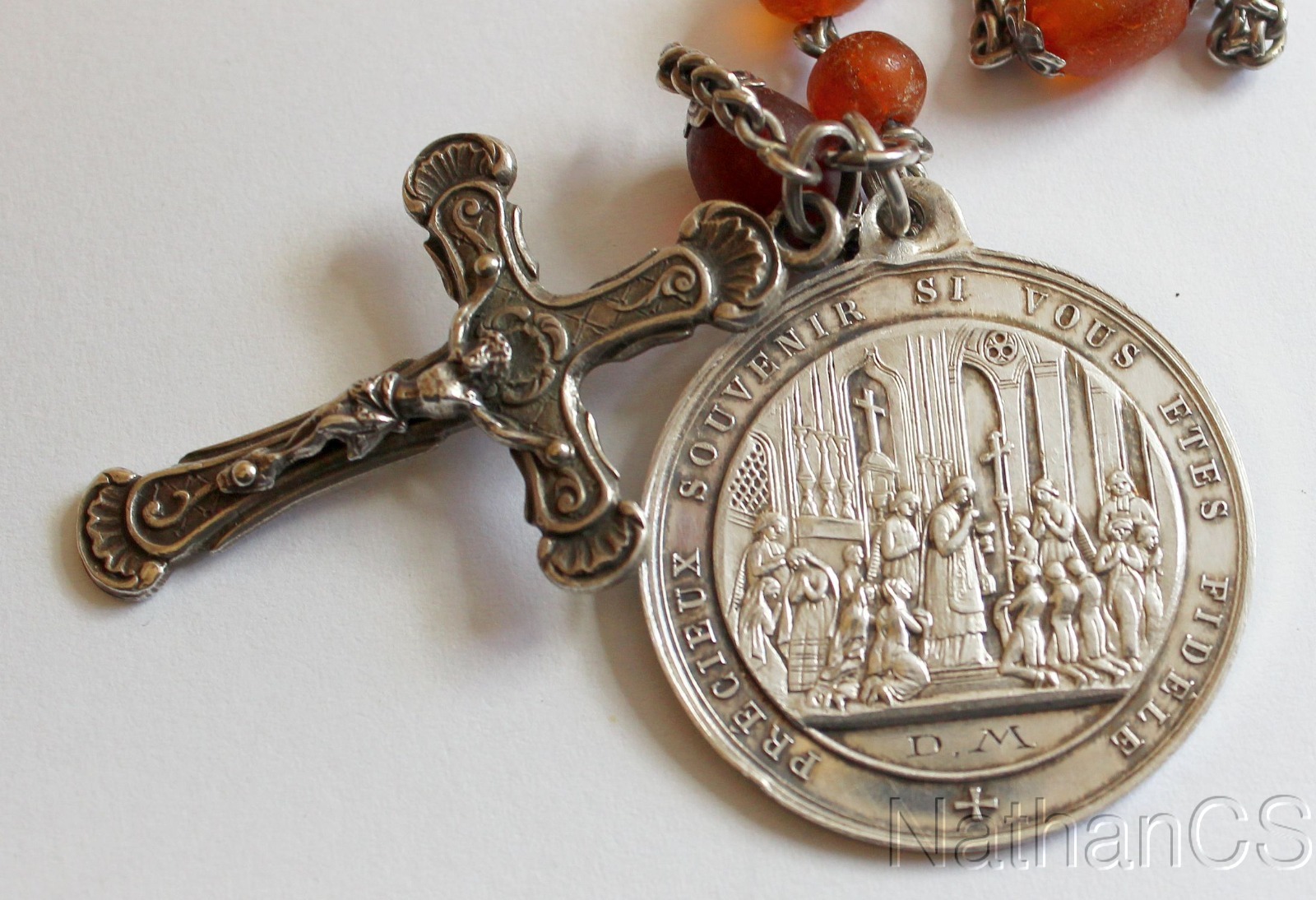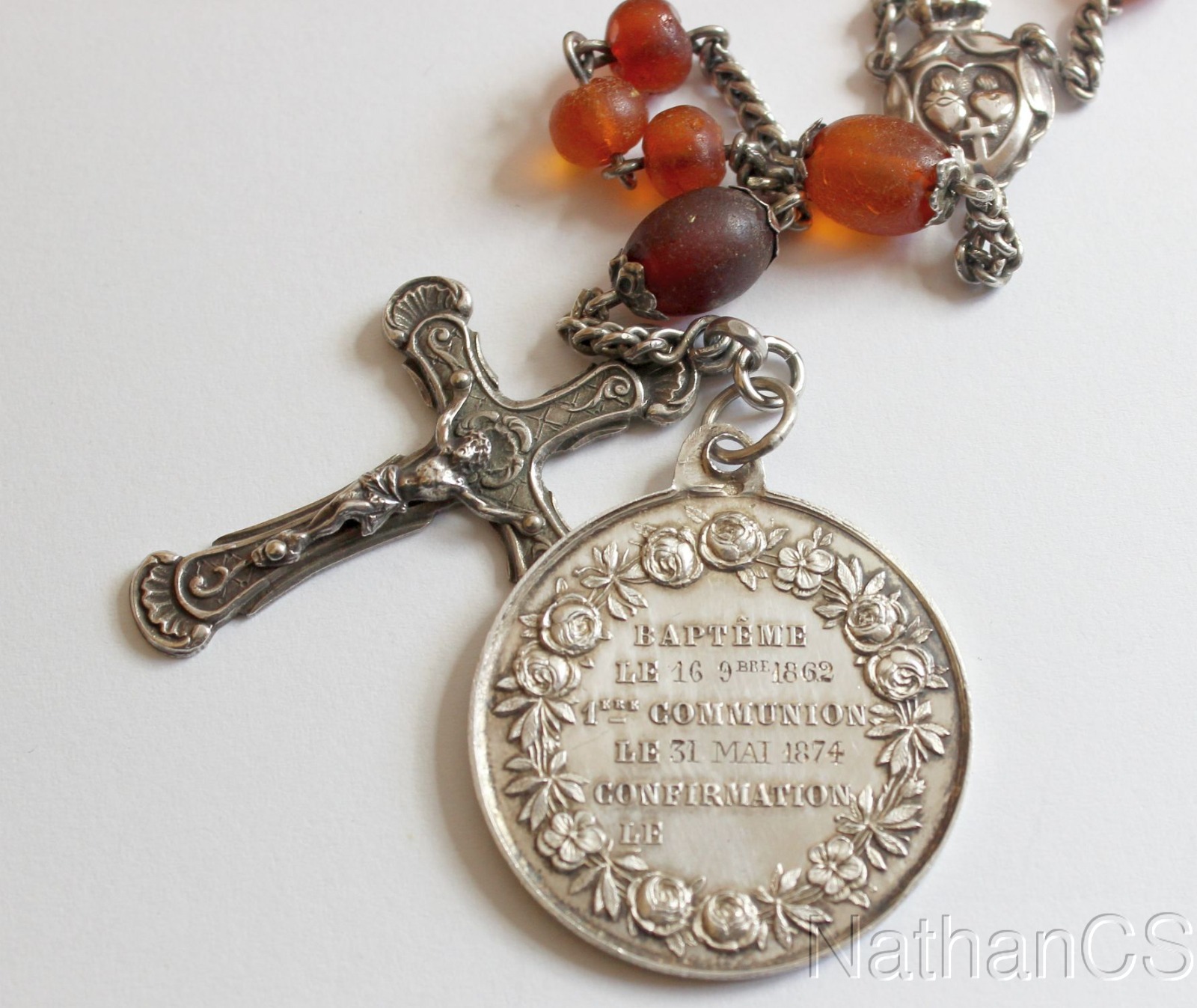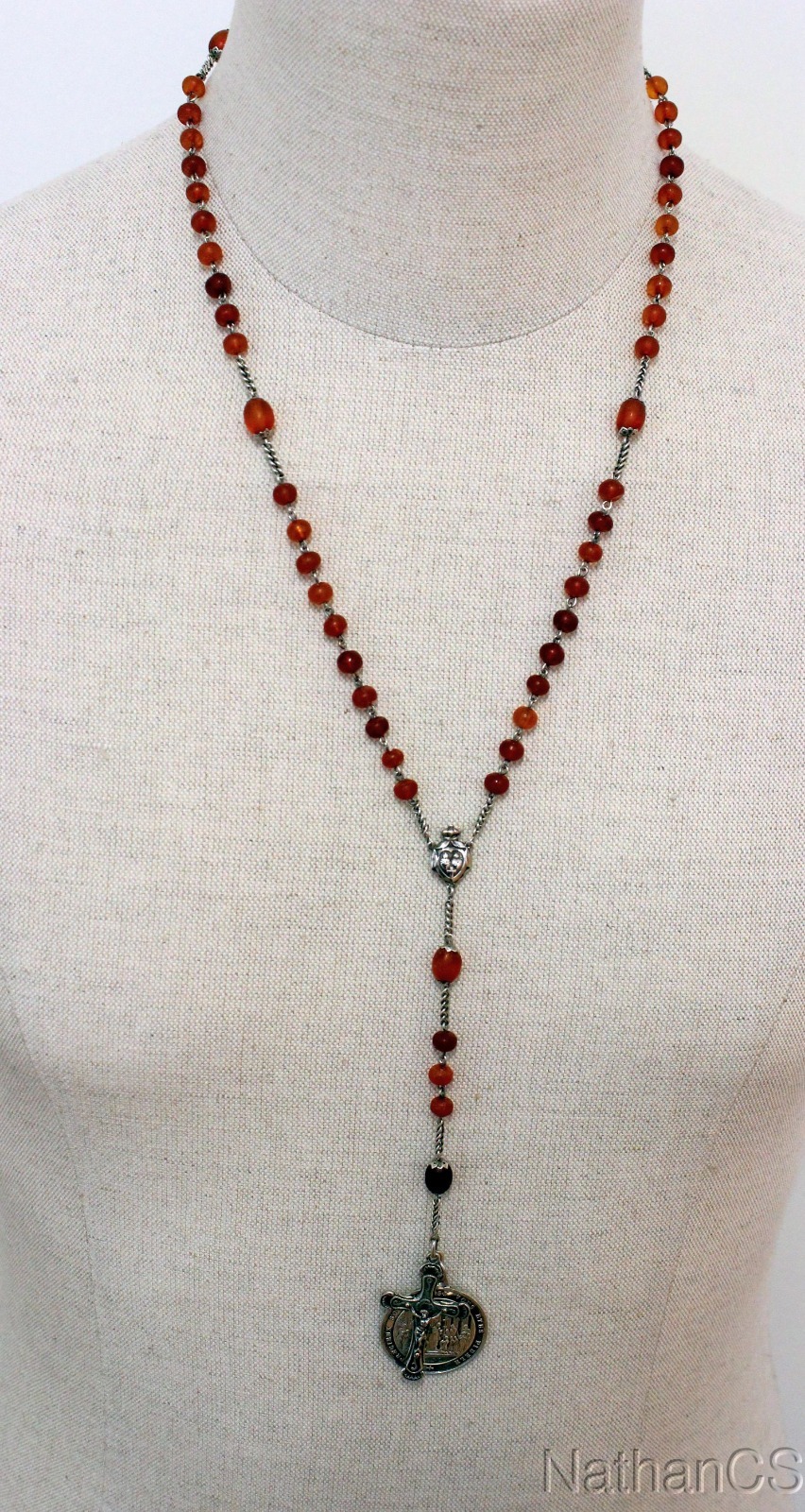 Description:
GENUINE ANTIQUES AND VINTAGES, COLLECTIBLE ROSARIES, IN PERFECT CONDITION, UNIQUE ITEMS TO CHERISH AND OFFER.
All Antique and Vintage Rosaries that I list come from my private collection. They are genuine antiques – older than 100 years – or genuine vintages – from 30 to 100 years old. All are in perfect condition and still very much usable. They are unique and a real pleasure to collect or still use.
The very exceptional item in this listing has the following characteristics:
The rosary has a Sterling Silver Sacrament medal linked to it with as baptism date 1862, which clearly dates it. It is made of amber and Sterling Silver. It is very rare and in excellent usable condition.

What makes its rarity is :
-that it is over 1 50 years old and in superb condition,
- that it is made of beautiful amber and it was quite a rarity at the time to find rosaries made of amber of such quality and carving
- that there is a sacrament medal attached to it : a medal that was used for the 3 sacraments of Baptism, First communion and confirmation. These are very are to find today especially in such pristine condition.

1) The beads are antique genuine Baltic Butterscotch Amber as may seen from close ups. It is of excellent quality. Beads for the Aves have an eaverage size of 6.5 x 5.5 - with very little difference between the beads which are all hand carved . Beads for the Pater's are 12 x 8 mm on average and are capped with sterling bead caps.

2) All Metal Parts, including the chain, are Sterling Silver - the Cross is hallmarked.

3) On the obverse of the Sacrament medal is written the following : " Precieux souvenir si vous etes fidele" which translate to : " Precious souvenir if you are faithful" and there is D.M. Monogram
On the reverse the following is written :
- Bapteme ( Baptism) 16th November 1862
- 1ere Communion ( First Communion) : 31 Mai 1874
- Confirmation : nothing is added.

3) Total length of the rosary is 50 cm ( 20 in) and the weight is 32 grams.

4) It will easily go over the head to be worn. Any size will do .

This is an extremely rare and valuable item, made of valuable material and very seldom seen. It is in excellent codition and may still serve many generations as it is a heirloom to keep and pass on.

All Pictures are an intrinsic part of the description. Please use the zoom feature.
Please do not hesitate to ask any question.
==== FREE SHIPPING WORLDWIDE ====
This is a magnificent item that you will greatly enjoy or that would make a fantastic gift.
My selling principle is : " SATISFACTION OR REFUND " AND IT APPLIES 100 %.
I am ready to refund in totality any item sold by me if you are not fully satisfied with your purchase
NO QUESTIONS ASKED - NO CONDITIONS
BUY WITH COMPLETE CONFIDENCE
---
Return Policy:
Items must be returned within 14 days .
Refund will be given as Money back.
Refund policy details:
DETAILS ARE SPECIFIED IN THE LISTING. REFUND AT BUYER'S DISCRETION : REFUND, EXCHANGE OR MERCHANDISE CREDIT.
Shipping:

Destination: Switzerland

STANDARD
Standard
$0.00
$0.00

Destination: Worldwide

STANDARD
Standard
$0.00
$0.00

Handling:
$0.00(Domestic)
$0.00(International)
Insurance:
Not Offered (Domestic)